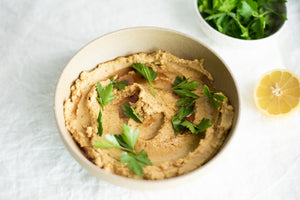 Fresh Bruschetta
Bruschetta with Omega Nutrition Balsamic and Flax Oil Drizzle! Here's the thing you must know about this recipe! Balsamic Vinegar gives off an irresistible tang and Flax Oil is a great source of Omega-3 essential fatty acids that our bodies need.
Let's Make it
Baby Kale SAlad
Kale is one of the healthiest veggies you can eat, but it doesn't always taste great raw. This version made with tender baby kale, chickpeas, oranges, almonds, topped with a homemade salad dressing makes a healthy lunch all on its own.
Let's Make it
Protein Pancake
Regular pancakes have minimal protein and are loaded with carbs. This recipe made with Omega Nutrition Plant-Based Protein Powder & Flax Powder are high in plant-based protein and fiber! Healthy! Tasty! Nutritious!
Let's Make it